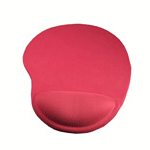 This perfect mouse pad with wrist rest will change your idea of what memory form mouse pad with wrist rest could be!

ROTA microfiber micro fiber memory form mouse pad with wrist rest is made of ultra high quality micro fiber from Japan.

You will suprisingly find this memory form wrist rest with mouse pad not only offer the positive traction but offer an unbelievable skin contact feeling to user.

When you touch this mouse pad with memory form wrist rest, youi feels so soft and like touch smooth baby skin. Try it before you buy it. The package will attached a small piece sample for user check the feeling before they make any buying decision.

Contact us for details.

---
ROTA America, Inc.Tel: 408-705-2077Fax: 408-532-6766Email: sales@keyboardprotector.com
(C) 2006 ROTA AMERICA, INC. All Rights Reserved.